Company Vision
Integrated expertise of optics, mechanic and electronic , research and develop new technologies, develop new products, introduce new concepts, to provide professional customized product design and high quality products, as the hidden champion of optical components and electronic imaging products. H.P.B. also provide excellent working environment and regulations, to achieve sustainable management and the goal of contributing to society. Finally, reach the goal of new technologies, new products, new ideas and customer satisfaction, employee satisfaction.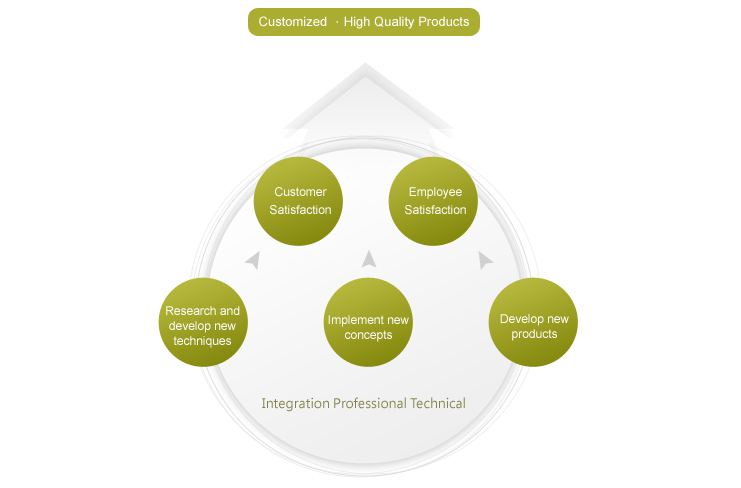 Environmental policies
H.P.B. contributes itself in opto-electronic field with dedication and perseverance in order to bring a better life for the people in the future. We fulfill our responsibilities for environment protection. We also conform to ISO14001 and execute the following environmental policies:

Public Safety and Hygiene
Comply with environment regulations. Conform to trends of energy saving and carbon reduction
To comply with environmental regulations and technical standards has always been the key operation of H.P.B. Since passed ISO14001 in 2011, HPB also granted ROHS, WEEE, REACH, pollution prevention, waste management and other environmental protection related regulations and orders of the certification, further more, H.P.B.'s office building was constructed using green building materials to comply with the current trend of green energy and carbon emissions.
Every colleague of H.P.B. is the most important asset of the enterprise. Apart from strengthening the environmental safety in public and working area as well as promote hygiene, there is also two fixed annual fire drill workshop and practical exercises, enhance the staff familiar with the use of fire apparatus and illustration on evacuation routes, and also set up training on emergency action plans, furthermore, establish a chemicals organic solvent Material Safety Data Sheet (MSDS), making on-site colleagues.
Corporation devotion and insistence. Offer excellent workplace environment
We also put up warning sign posts in working places to remind everyone to pay attention during the working process, there are staff been assigned to attend the industrial safety training courses which conducted by the government i.e. industry safety, hygiene and first aid, to complete cover prevention and remediation, with the company's intentions and persistence, no industrial accident recorded since H.P.B. relocation to central Taiwan Science Park in 2007. In order to look after employee's health, the company also implemented regularly health check up scheme, regular tests on i.e. drinking water, workplace of air quality, exhaust, lighting, noise level to provide employees with a superior working environment.
H.P.B. also convinced a employee who care's own working environment tidiness, hygienic, can also preformed excellent on job efficiency, in order to supervise and remind all of our staff, there is irregular 6S inspection once in one to two months, about the miss conduct staff, we will convey the department manager to pass the message of improvement.

Green design policies include(ROHS)
Alternative for prohibited materials policy: RoHS and REACH materials are introduced.
Toxic substances minimized: According to MSDS control, strategically decrease the use of toxic substances
Energy saving and carbon reducing